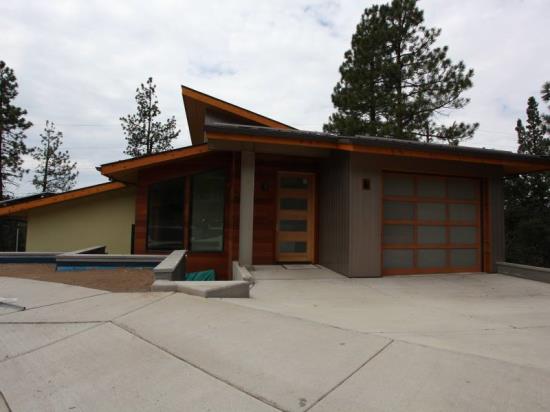 11
1639 NW Scott Henry Place
Built by: Jim Guild Construction
Saginaw Sunset, Bend, Oregon
2 BR | 2.5 BA | 2,411 Sq Ft. | $845,000
Features:
-New custom contemporary architecture by Neal Huston & Associates
-Split level Westside Home with stunning Cascade Mountain views
-Sunny Interior, ​hand-textured walls, Fisher Paykel & Miele ​fixtures
-2BR + ​flex, ​gear ​storage, ​staggered stud framing with 2x8" walls
-Metal, ​stucco & ​recycled ​redwood siding; Standing ​seam ​roofing
-5.13 kW PV Solar is Net Metered, EV charger, ​residential ​elevator
-Steel I beam superstructure for 3 easy care decks, steel railings
-High end custom NAUF white oak cabinetry built in-house; LED lights
-Tankless H20, dual flush, low flow faucets; storm swales, no lawn
-White oak interior trim milled in-house; ​white oak veneer doors
-Super-low VOC primer & no-VOC paint on interior walls
-Italian ​tiles & ​renewable ​cork ​flooring; Eco-Crush ​counters
-R-30 walls, R-38 floors, R-52 vaulted ceilings, R-60 flat ceilings
-Metal Clad WeatherShield ​windows average 0.28 U-value
-Bike, Walk & kid ​friendly; ​convenient to sips, shops, schools, transit
Directions: From downtown Bend, go west on Greenwood Avenue, continuing onto Newport Avenue. Turn right onto College Way, right on Saginaw Avenue, and right on Scott Henry Place.

Bend Energy Challenge Spotlight
While this home has many energy efficient features, the Bend Energy Challenge will shine a light on the use of the most efficient lighting on the market—light emitting diodes—most commonly known as LEDs.
Saginaw Sunset is using LEDs throughout the home in all fixtures. Contrary to popular thought, LEDs come in a variety of shapes and sizes so that they can meet any lighting need and offer an instant, high-quality light. Switching from conventional lighting to LEDs is one of the easiest and most affordable ways to help your new home (and even your existing home) use less energy. Come check them out and see how they will make a great addition to your home!
This beautiful, efficient home also features a 5,130 Watt solar system with an electric vehicle charging station
Subcontractors & Suppliers:


Appliances
Johnson Brothers
Architect
Neal Huston & Associates Architects Inc
Bath Accessories
Consolidated Supply
Blower Door Test
Earth Advantage
Cabinets
Jim Guild Construction LLC
Closet Design & Fabrication
Jim Guild Construction LLC
Concrete
Bend Concrete Services
Construction Clean-up
Jim Guild Construction LLC
Countertops
Baptista Stone
Decking Contractor
Jim Guild Construction LLC
Decking Supplier
Miller Lumber
Doors
Deschutes Window & Door
Drywall Contractor
Ken Megaard Construction
Drywall Supplier
Building Specialties
E-Bike
Bend Electric Bicycles
Electrical Contractor
B & C Smith Contracting
Energy Performance Score
Earth Advantage
Equipment Rental
Jim Guild Construction LLC
Excavation
Alex Hodge Construction
Finish Carpentry
Jim Guild Construction LLC
Fireplace Supplier
Fireside Stove
Floorcovering Installer of Cork
Jim Guild Construction LLC
Framing Contractor
Jim Guild Construction LLC
Foundation
Bend Concrete Services
Garage Door
Blankenship Garage Doors
Hardware
Deschutes Window & Door
Hardware
Winks Hardware
HVAC
Mountain View Heating
Insulation
Comfort Insulation
Insulation
ECI Insulation
Interior Design
Jim Guild Construction LLC
Landscaping & Plantings
Rod Wayne Landscaping
Landscape Supply
Pacific Resource Brokers
Landscape Supply
Best in the West
Light Fixtures
Bend Lighting
Lumber Supplier
Hardwood Industries
Lumber Supplier
Miller Lumber
Millwork
Jim Guild Construction LLC
Millwork
Hardwood Industries
Painting Contractor
Roanoke Painting
Driveway Concrete
Bend Concrete Services
Plans & Blueprinting
Bend Mapping & Blueprinting
Plumbing Contractor
Noe Plumbing
Plumbing Supplier
Consolidated Supply
Radiant Exterior
Stair Heating Bobcat & Sun
Roofing Contractor
River Roofing Bend
Shower Doors & Mirrors
Alpine Glass & Mirror
Siding Installer & Supplier: Metal
River Roofing Bend
Siding Installer & Supplier: Wood
Jim Guild Construction LLC
Solar PV Installer & Supply
E2 Solar
Solar PV Battery Bank
E2Solar
Tile Installer
Scott Smith Tile
Tile Supplier
Baptista Tile
TV / Sound
Stereo Planet
Windows
Deschutes Window & Door